Well I have to say that this decade has been pretty astounding for musical releases, stronger than the 90s certainly for my tastes. I've decided to limit it to one album per artist. This list will probably seem totally wrong to me in several months, as I've noticed several 'key' bands not listed that have the potential to be on here easily, but oh well, I can always amend this list. And so without further ado, here are my top 25 albums of the decade:
25: Adagio - Underworld

I've known Adagio for many years, but only recently have I appreciated what a masterpiece that Underworld is. Neo-classical prog power metal? Sure, why not. Improving on thei
r debut in every way, there is little to complain about on this album. too bad the next two albums went in a less satisfactory direction.
24: Alter Bridge - Blackbird
Rising from the Ashes of Creed, a questionably successful mainstream rock band, the members (sans singer) manage to snag hold of Myles Kennedy - the best rock singer today. This album is pretty much the perfect rock album to me, and the almost 8 minute title track has to be my favourite rock song of all time.







23: Iron Maiden - Brave New World
After three lackluster albums in the 90's, it seemed that the once magnificent Iron Maiden had fallen. But behold, the old bassist and singer rejoin the band and put out not only their best album, but the best 'heavy metal' album of all time. Welcome back Bruce.
22: Spock's
Beard - Snow
When Neal Morse left Spock's Beard to persue a Christian-orientated music career, Spock's Beard fans were understandably upset, after having just received the best Spock's Beard album yet. A stunning double CD concept album.








21: Muse - Origins Of Symmetry
This was the album that shot Muse into the mainstream light of the English music industry, and still remains as their most cohesive and strong album. Brilliant.









20: In Flames - Clayman
In Flames' last album before moving away from their melodic death metal heritage, Clayman was a brilliant release after a stunning run of classics in the genre. I'm sure many fans wished that this was as 'mainstream' as In Flames would go. Sadly not.








19: As I Lay Dying - An Ocean Between Us
The single best metalcore album in existence. Don't dismiss it just because of the genre, this is genuinely stunning metal, and has been one of my most played albums since it's release two years ago.








18: Dark Tranquillity - Fiction
Not following in In Flames footsteps, Dark Tranquillity have remained dedicated to the traditional Gothenburg sound. Fiction saw singer Mikael Stanne finally use his clean vocals again, the first time in nearly a decade. Mixed with some 'modern' synthesised sounds (nothing like In Flames' approach, I hasten to add), they manage to push out their strongest album in a long line of strong albums.





17: Katatonia - Night Is The New Day
When Mikael Akerfeldt declared NITND to be the best 'heavy' record he'd heard in the decade, I was skeptical, not the least because of him being bestest buddies with Katatonia singer Jonas Renske. While it didn't quite steal that award, it is certainly my favourite Katatonia album, where they finally managed to balance their sound out.






16: Scar Symmetry - Holographic Universe
Newcomers to the melodic death metal scene, Scar Symmetry soon carved their own following, proving that there was still life left in the genre. Holographic Universe is certainly their best album, with the 9 minute title track possibly being the best melodic death metal song ever. They also get bonus points for one hell of a vocalist in a genre full of average-to-bad vocalists.






15: Epica - The Divine Conspiracy
In one fell swoop Epica manage to get to not only mature their sound, but perfect their previously dodgy album production. Coupled with their already obvious talent, this makes for the best symphonic metal album ever, with not a single skippable song.








14: Radiohead - Kid A
Ah, Radiohead. Some people might be shocked to see them so low in this list. Unfortunately my favourite albums are stuck back in the 90's (The Bends and OK Computer), but Kid A is damn good too, with Radiohead yet again changing their sound, and being yet again successful. Quite incredible.







13: Riverside - Out Of Myself
What do you get when you mix Tool, Porcupine Tree and Pink Floyd? A band from Poland who managed to impress the prog rock community substantially with the debut, and very favourable reviews for subsequent albums. Riverside also get the 'best debut' award from me. This album blew me away on first listen.






12: The Dear Hunter - Act II: The Meaning Of, And All Things Regarding Ms. Leading
Often music that we have recently discovered is biased favourably, but The Dear Hunter would probably be even higher if I had known them for a bit longer. The second album of a double trilogy concept series, it manages to pull off a lengthy concept that is not boring for an instant, and showcases
Casey Crescenzo's ridiculous vocals - see the song 'Red Hands'.
11: Coheed And Cambria - Good Apollo, I'm Burning Star IV, Volume One: From Fear Through The Eyes of Madness
The Best Coheed And Cambria album. This album has so many great vocal moments, thanks to unique singer/guitarist Claudio Sanchez. These guys know exactly how to mix rock with proggier tendencies, while keeping it straight-forward and catchy.





10: Protest The Hero - Fortress
I think that Protest The Hero get the youngest band award on this list. Virtuosic musicianship coupled with a standout singer make these progressive metalcore Canadians the best in their field. With two almost perfect albums back to back, it was very hard to choose which to put on here.







9: Neal Morse - ?
What does Neal Morse do after leaving Spock's Beard at the height of their greatness? Go and do even better. This guy truly is one of the best men in prog rock today. I think that ? is his most perfect album, although none of his albums manage to waste much time. Fun concept too.







8: Ayreon - 01011001
Arjen Lucassen cannot read sheet music. But that doesn't stop him making some of the most ambitious progressive rock albums around. Ayreon is a project that incorporates a silly number of singers, all taking on roles of particular characters in the overarching storyline. I think with 01011001 being the last Ayreon album, Arjen was determined to get the best lineup possible, and he succeeded. Despite the Similarly strong 'The Human Equation', I think that 01 manages to win in terms of vocals. The added heavier element on this album also works in Arjen's favour, making 01 the best album of the Ayreon series.


7: Kamelot - The Black Halo
What do you do with the only non boring power metal drummer and an opera trained vocalist? Make the best power metal album around, and tie in some prog just to make it that little bit better. Without a single moment that I don't like, The Black Halo is the one power metal album that I can never get sick of, despite not liking the genre as much as I used to.






6: Mastodon - Crack The Skye
Despite only knowing these guys for the past couple of months, they managed to snatch album of the year 2009, and get sixth on my decade list. Wow. These guys truly came out of nowhere for me. The press love them, and I couldn't stand their vocals at first. Well that changed. This album has so many amazing moments that I loath to ever play a single part of it, despite not being a concept album. Well okay it is, but it's such a mindfuck that it doesn't really matter :P




5: Between The Buried And Me - Colors
I remember being ferverently recommended this album at it's release. I heard the first ~3 minutes and turned it off, deleting the album. A year later, I decide to give it another go after many people moan on and on about how much genius it is. And genius it is. Although the previous album has my favourite guitar solo (ever) on it, this album manages to blow to pieces all three previous releases.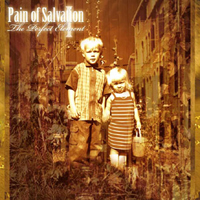 4: Pain Of Salvation - The Perfect Element, Part 1
This album took me atleast 6 tries to start getting into it, and it was probably by the 10th that I truely loved it. But as you can see, I

really

love it. Daniel Gildenlow...just wow. His vocal variety and abilities are matched only by his ability to write a flawless progressive rock album. No wonder that this is the first modern album on the progarchives top 100.






3: Dream Theater - Six Degrees Of Inner Turbulence
Oh Dream Theater. You have ~2.5 times more plays than any other artist on my last.fm profile, despite not being my favourite band. Definitely the most talented musicians in any band that I know that

exist

, Six Degrees marked the perfect blend of the light and the heavy, and provides two CDs of this magnificent music!






2: Porcupine Tree - In Absentia
I think Porcupine Tree get the award for best albums in a row. Stupid Dream, Lightbulb Sun, In Absentia, Deadwing, Fear Of A Blank Planet (with Nil Recurring) and The Incident. So when I went to pick the one album to list, I had a really, really, really hard time. In the end I chose the album that got me into the band, despite not having my favourite PT song on it (and indeed, my favourite song ever), it has so many 10/10 tracks that it almost gets a bit overwhelming.




1: Opeth - Blackwater Park
Well this isn't really a surprise is it. My favourite band has album spot 1. To be fair, it's not my favourite Opeth album (Still Life narrowly steals that). However, I think that working with Steven Wilson on the production of this album was perhaps the best move that Opeth have ever made, apart from recruiting Martin Lopez, perhaps the most standout drummer who nobody realises stands out today. This album has so many Opeth classics that it could be the Greatest Hits. It's so flawless that even the bonus tracks are better than half the bands I listen to. This album is pretty good.